Polypropylene safety seal with a manual system to tear off the seal. Adapted to various openings with a diameter of 4 mm and a smooth holding rod of 492 mm. Ideal for transport, agricultural tracking, postal service, bank sectors. Optional customization, logo, barcodes and made-to-measure numbering.
Detailed description
Product information
Use
Manual clamping
removal without tool
Typology
With progressive tightening
Field of application
Bank and cash transport
Food industry
Chemical and Pharmaceutical Industry
Recycling
Security and defence
Transport and Logistics
Packaging
Pin of 5 pieces – Box of 1 000 pieces
Technical characteristics
Rod length
Overall = 567.5 mm; usable = 492 mm
Coloris
Yellow, red, blue, green, white
Engraving
Hot printing process
black or white colour
Marking type
Name, Numbering, Bar code
Drawing

In the same range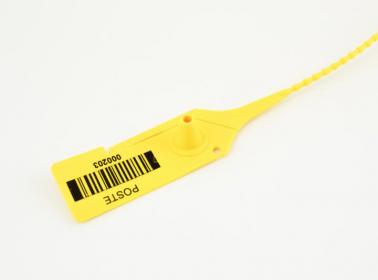 KL 440 seal
Polyamide safety seal 6.6 with a 3.8 mm diameter and a 320 mm notched rod.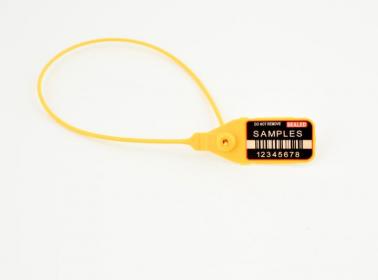 universel L seal
Food grade polypropylene security seal. Suitable for small openings with a diameter of 2.3 mm and a smooth fixing rod of 320 mm.