The characteristics of the raw materials!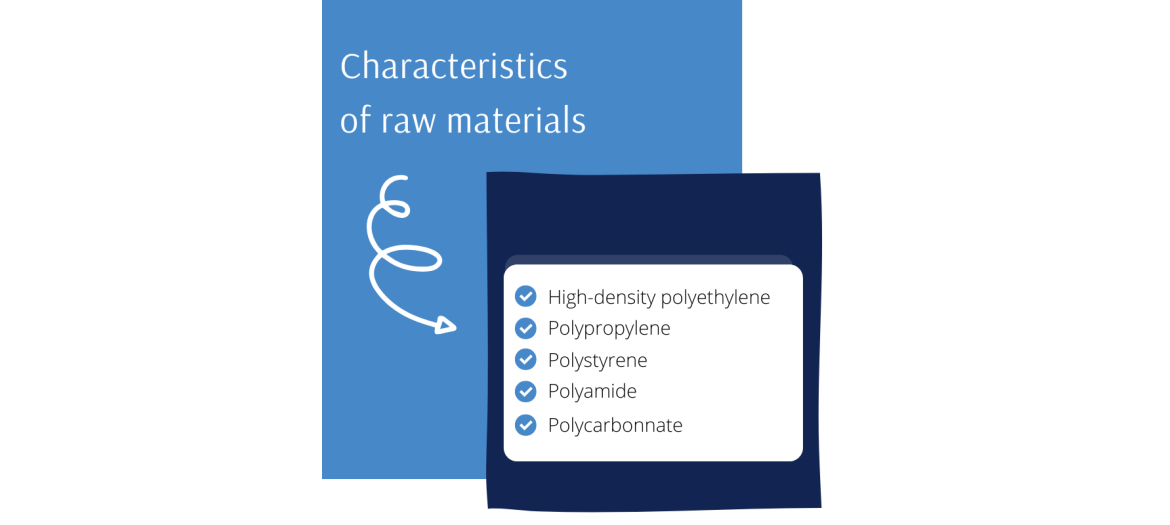 Do you know the characteristics of the raw materials we use ?
Generally, the raw materials we use are :   
High density polyethylene - HDPE
Polyethylene, abbreviated HDPE, is a semi-rigid and semi-crystalline thermoplastic.
It is notably used for the PL91/32 and PL91/38 seals.
The strong points : Unbreakable and flexible, chemical resistance, non-stick, suitable for food contact and very resistant to fatigue and bending.
Polypropylene, also known as PP, is a rigid semi-crystalline thermoplastic.
It is mainly used in the pharmaceutical, electronic and cosmetic industries.
Material used for the DEJ 930 seal, universal seals and plasto seals.
Strong points : High rigidity, good resistance to chemicals, high temperatures and bending, good mechanical resistance and suitable for food odorless and non-toxic,
Polystyrene is a transparent and amorphous thermoplastic which allows the production of parts with a shiny appearance such as plastic seals without a stem.
The strong points : low shrinkage, transparency and brightness and great rigidity good insulator,
Polyamide is a semi-crystalline thermoplastic, also called nylon.
It is used in parts requiring a good resistance like the tightening links, the combi seal, the KL310 or the KL440.
The strong points : Low friction coefficient and good thermal and chemical resistance to solvents, oils, hydrocarbons...                                                                                                                                                                                                                                                                
Polycarbonate is a transparent thermoplastic with an amorphous structure. Component of the Twist HS031 seal.
Strong points : Excellent transparency, good impact resistance, food grade plastic and good temperature resistance.
In the case of laser marking, other additives are added to the primary materials used. They are introduced into the polymers to improve the physical, chemical and processing properties.
The Dejoie team